The Final Hour of CHR on WAVA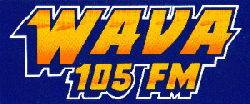 In the early 1990's, Emmis Broadcasting was one of the premier ownership groups in the country consisting of many stations of the former Doubleday and NBC Radio groups. However, one bad business decision (Ownership of the Seattle Mariners) caused the company to auction off many of its stations to the highest bidder. While WFAN in New York went to Infinity Broadcasting, some stations were unable to keep their current format by their new owners. Salem Broadcasting acquired WAVA and quickly stated its obvious intent to flip the station religious.
WAVA had an illustrious history. One of the first FM all news stations in the 70's, the station had been an AOR in the early 80's when the decision to go Top 40 was made. Under such monikers as "All Hit 105", "Power 105", and simply "105.1 WAVA", the station dominated the CHR landscape from the mid 80's until its demise. However, changing musical trends kept the format away from Washington following the demise of WAVA until 1996 when Z104 debuted.