WSMJ Baltimore Becomes "Channel 104.3"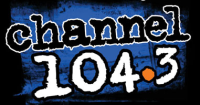 The 104.3 frequency in Baltimore has been in a continuous loop of format changes since the demise of CHR "B104" WBSB in the early 90's. There was Hot AC "Variety 104.3" WVRT, Soft AC "Soft 104.3" WSSF, All 70's and later Classic Hits "The Colt" WOCT, Classic Rock "Baltimore 104.3" which later brought back the "B104" name under the call letters WXFB. Since 2003, the station had found some stability with Smooth Jazz WSMJ.
With the format dying off in many markets, it was expected that WSMJ would eventually change formats. That change eventually happened on May 23, 2008 as WSMJ became Modern Rock "Channel 104.3". The launch sequence includes a nice montage of airchecks taken from BostonRadio.org as well as some site called FormatChange.com.