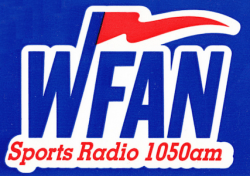 Previous Format: Country WHN
New Format: Sports WFAN
Date & Time Of Change: July 1, 1987 at 3:00pm
More Info: Wikipedia
Jeff Smulyan had an idea. What if you could recreate barroom discussion of sports on a 24 hour radio station. Lucky for Jeff, he happened to be the President of Emmis Broadcasting, which happened to have an AM outlet in New York that would be a perfect testing ground for the format. WHN had become a legend in the previous 15 years it had with the Country format, with many New York DJ's that will go into any New York Radio Hall of Fame: Del Demontreaux, Lee Arnold, Dan Daniel, and Dan Taylor to name a few. Equipped with rights to the defending World Champion New York Mets, WFAN signed-on and without making much of a dent in the ratings it did make a name for itself locally and nationally.
Related Changes: 1050 WFAN Moves To 660; WYNY Becomes Country 97